Description
DESCRIPTION
In softened water or reverse osmosis, water (permeate) is fed through a UV lamp and exposed to radiation of approximately 200-280 nm (UV-C range). This inactivates microorganisms such as bacteria, viruses, legionella and carbon particles.
Part of the electromagnetic spectrum

Aquada 1 and 2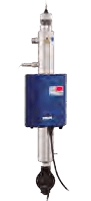 Incl. temperature monitoring & connecting kit.