Alpha Direct Room Humidification
MICRO DROP DIRECT ROOM HUMIDIFICATION
Alpha Direct Room Humidification
Description....
The Alpha air humidification system for direct room humidification is our most advanced system offering remote visualisation and monitoring of humidity and temperature in multiple zones.
It works with filtered and hygienically safe, treated water. If desired and depending on your process, the water can first go through a water softener, a reverse osmosis filter and an ultraviolet disinfection unit. Following the water treatment, the water is pumped through a stainless steel hydrabottom-padding-40ulic pump at 70 bar pressure to the humidification units where it is finely atomised with the micro drop high performance nozzles which add the required moisture to the atmosphere.
The Alpha's flexible PLC multi-zone control with colour touchscreen, along with high quality humidity and temperature sensors ensure precise and constant ambient humidity.
The optional visualisation always gives you the overview of the entire system and allows the user to record this data. This can greatly help with allowing you to monitor how accurate humidity control benefits your process, building or staff.
The Alpha has the capability to control up to 12 individually controlled zones, all of which can be adjusted and monitored through the central control unit. Should you application require control over more than 12 humidification zones, then we can add an extra pump station (or slave unit) to the system to expand the number of controllable zones your application requires.
Features….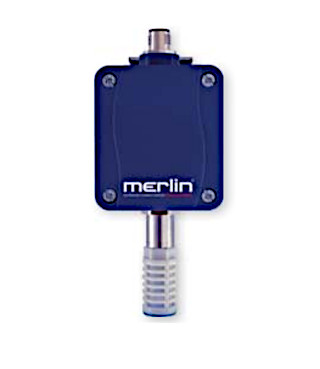 FTS112 Humidity & Temperature Sensor:
The sensor measures the relative air humidity and temperature in each individual zones. If needed, the humidity can be adjusted in each zone.
The FTS112 humidity and temperature sensor performs perfectly w269ith its fast reaction time, high level of accuracy and extra mechanical safety humidistat.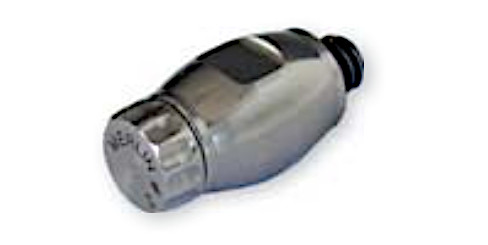 HPD High Performance Nozzle:
The new nozzle, with its high-quality workmanship and flow optimis269ed design, is a development based on the micro drop nozzle. Made of noncorrosive acid proof stainless steel.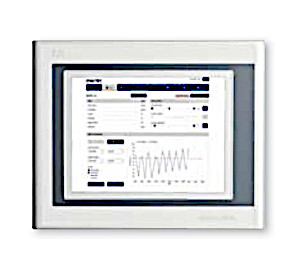 PLC Control:
The smart PLC control manages the whole water treatment process as well as the humidity and temperature sensors, resulting in perfect air humidity levels in your room.
OPC interface as standard, PC visualisation and data recording optional.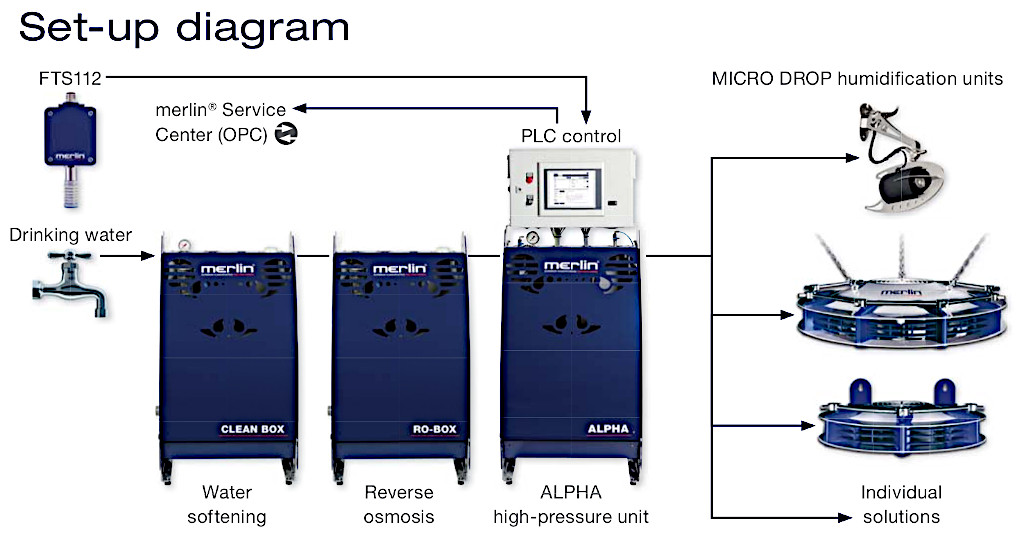 Benefits
Frequency controlled water hydraulic water pump (oil and maintenance free)
Micro drop atomisation
Low maintenance and minimal operating costs
Modular and functional design
Adjustable humidification system
High level of reliability and safety
High standard of hygiene
All bearing components are made of anti-corrosive V2A stainless steel or food tested plastics
Benefits (cont.)
Hygiene interval switching
PLC Control
Low Energy consumption
Easy Handling
Visualisation and data storage on PC possible
Individual interface to building control systems
Up to 12 individually controlled zones
Slave panels can be added to provide even more zones