Flat Fan Nozzles
Flat fan nozzles ensure a uniform distribution of liquids as either a flat or sheet type spray. We offer a wide range of flow rates and pressures with spray angles available from 0° (solid stream) to 145°.
All flat fan nozzles benefit benefit from an unobstructed flow passage thus minimising clogging potential.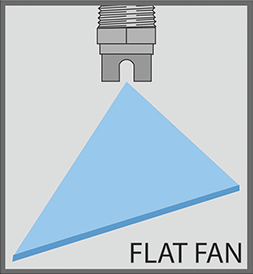 Optimisation Tips:
Evaluate your specific spraying application and implement a regular nozzle maintenance plan.
Use nozzle strainers or in line filters to reduce nozzle blockage.
Use adjustable pipe clamp assemblies for quick, precise nozzle orientation.
Monitor flow rate and pressure to detect wear, loss of pressure and or increase in flow confirms nozzle wear.
A sudden pressure increase usually results in blocked nozzles.
Contact our office for further assistance and to reduce operating costs through precision spray technology.
Related Products:-
Showing all 7 results
---