Steel Industry Nozzles and Their Applications
With over 30 years experience, we offer a complete range of spray nozzles and spraying systems for use in steel mills, with processes ranging from cooling of slabs, blooms and billets to the cooling, cleaning and rinsing of steel and strip. We also have nozzles for roll cooling, nozzles for rinsing and cooling in pickling lines, nozzles for quenching and cooling in coke plants and nozzles for liquor flushing. In addition we have nozzles and systems for dust and pollution control.
Below we show a flow line of the steel making process and areas that benefit from quality spray nozzle products.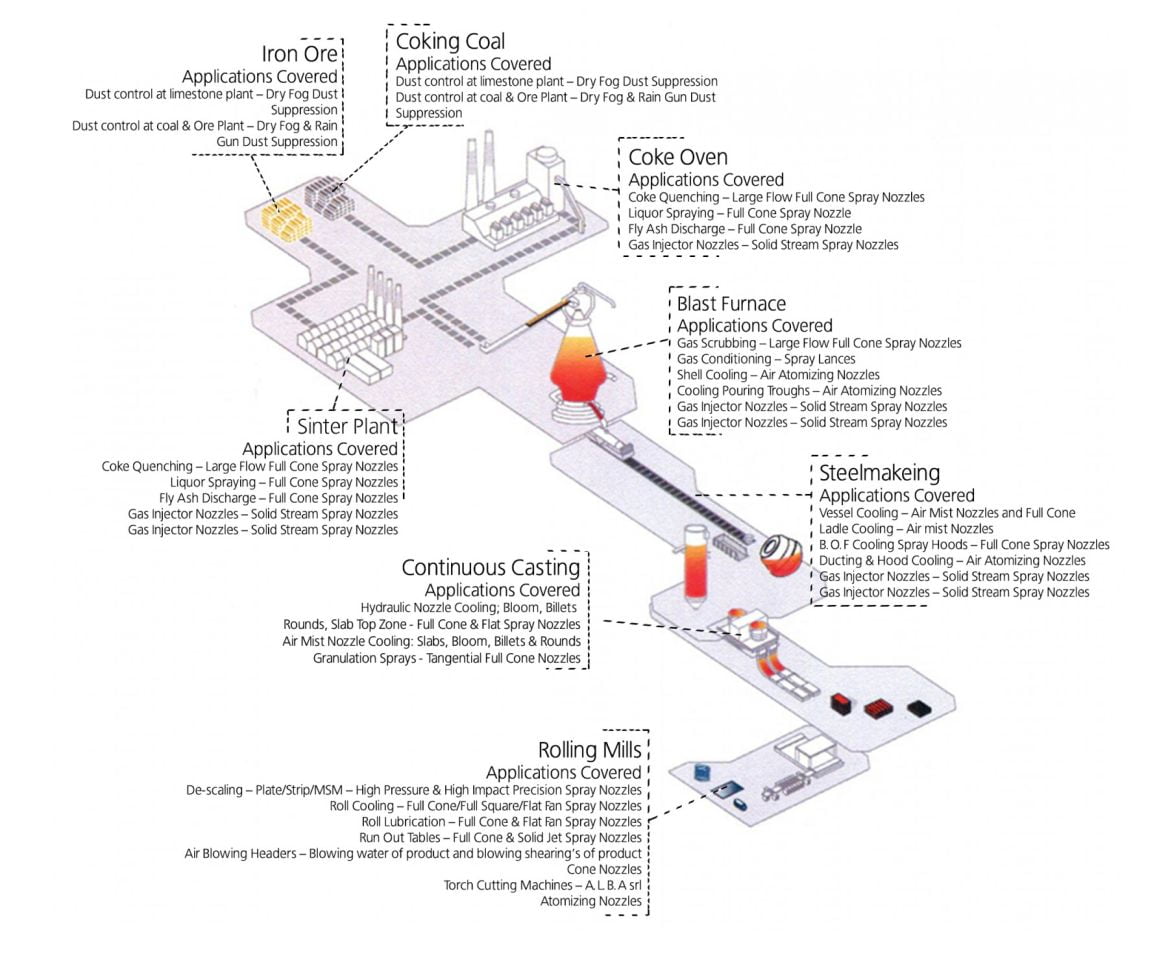 Applications
Continuous Casting
Secondary Cooling
Features
Highly uniformed distribution
Highly uniform droplet size
Even cooling characteristics
Wide passages prevent blockage
Large turn down ratio
Fluid orifice can be removed and cleaned/replaced without removing nozzle assembly
Applications
Continuous Casting
Secondary Cooling
Features
Removable circlip to allow for easy cleaning and maintenance
Even Distribution
Brass construction with stainless steel circlip and locating pin
Working pressure between 2 – 20 bar
Brass retaining nut
Applications
Continuous Casting
Secondary Cooling
Features
One piece body with internal core
Full cone spray pattern
Even distribution
Male or female connections
3/8″ BSP Threaded
Applications
Roll Cooling
Features
Produces a uniform, flat spray without hard edges
Tapered edges of pattern allow overlapping for even distribution
Orifice is offset 15 degree to axis of dovetail
Dovetail connection for consistent alignment
Applications
Continuous Casting
Secondary Cooling
Features
Removable circlip to allow for easy cleaning and maintenance
Even Distribution
Brass construction with stainless steel circlip and locating pin
Working pressure between 2 – 20 bar
Brass retaining nut