Forte Duct Humidification
Easy To Integrate Into Any Ventilation Or AC System
Forte Duct Humidification
Description....
Easy to integrate into any ventilation or AC system
The duct humidification system Merlin Forte can easily be integrated into most ventilation and air conditioning systems. It works on the basis of the ultrasonic principle and humidifies the air with aerosols of 1 ¼m. For generating 1 kg moisture merely 52W/h of energy is used. Compared to isothermal systems e.g. steam humidifiers up to 93% of energy costs are therefore saved.
Applications
Paint Shops and clean rooms
Electronics
Food Industry
Medical manufacturing facilities
Options
Duct hygrostat
Control cabinet with microprocessor controller
Various reverse osmosis systems
Online conductance measuring
Various transformers
DUCT HUMIDIFICATION
Water is atomised by ultrasonic vibrations of 1.7 MHz into aerosols of 1μm. By means of the existing ventilation or air conditioning systems they are released into the desired environment. The aerosol mist (cold vapour) mixes with the ambient air, evaporates completely and is distributed evenly throughout the room.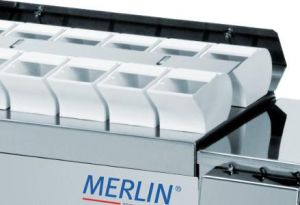 DETAILS
Corrosion-free stainless steel
Dry run, thermal and overflow protection
Oscillator of ceramic-piezoelectric material
Mains filter for protection against voltage peaks
Hygiene management AquaDrain®
Disinfection programme Contra-Keim®
CONTROLLING
Hygrostat control
Constantly by integrated signal adapter
Proportional control
Potential free output