Demo Speedyjet Spray System
Speedyjet Spray System For Food And Bakery Applications
Demo Speedyjet Spray System
Description....
Many food and bakery manufacturers and processes have applications that benefit from well designed spray systems that can assist either with direct product quality or process improvement. Whether spraying ingredients, coatings, glazes, release agents or just water, being able to control the amount of material used, reduce waste and improve quality is essential in optimizing production and product quality.
Our electrically actuated Speedyjet spray systems are the ideal solution for all these applications as they can reduce waste, eliminate misting and overspray and reduce rejected products and downtime often experienced by manufacturers with inefficient spray systems.
We have experience in spraying almost all materials within the food and bakery industry and are able to help with the design and supply of the most efficient, reliable spray system.
Sealpump can also carry out initial spray tests at our facility in order to help select the best spray solution.
Applications
Spraying food coatings & flavourings
Spraying glazes onto baked goods
Spraying alcohol (ethanol) onto food packaging to extend shelf life
Applying egg wash to baked goods
Spraying anti-microbial solutions onto meats and salads for food safety
Moistening spray systems for seed and topping adhesion
Tin & pan lubrication
Spraying mould release agents
Spraying mould inhibitors
Applying low volumes of water to combat water loss
Dough splitting/scoring
Many more
Benefits
High speed pulse of up to 4500 cycles per minute is suitable for high speed production lines and allows production to be increased
When used with the Speedyjet Spray Controller it gives precise control over the flow rate and spray angle
Flow rate can be easily adjusted simply by adjusting the on/off of the spray cycle on the control panel screen
Different flows can be achieved with a single nozzle size
Low flow rates are possible with larger orifice nozzles, reducing the risk of nozzle blockage
Food grade nozzle & system available
Eliminates misting and potential overspray improving product quality and improving process cleanliness
Bottom Content Goes Here
This is the bottom content This is the bottom content This is the bottom content This is the bottom content This is the bottom content This is the bottom content This is the bottom content This is the bottom content This is the bottom content This is the bottom content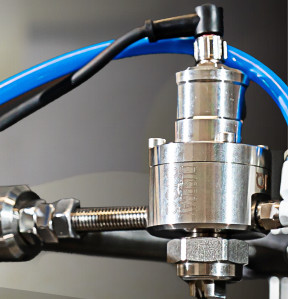 This is the bottom content This is the bottom content This is the bottom content This is the bottom content This is the bottom content This is the bottom content This is the bottom content This is the bottom content This is the bottom content This is the bottom content This is the bottom content This is the bottom content This is the bottom content This is the bottom content This is the bottom content